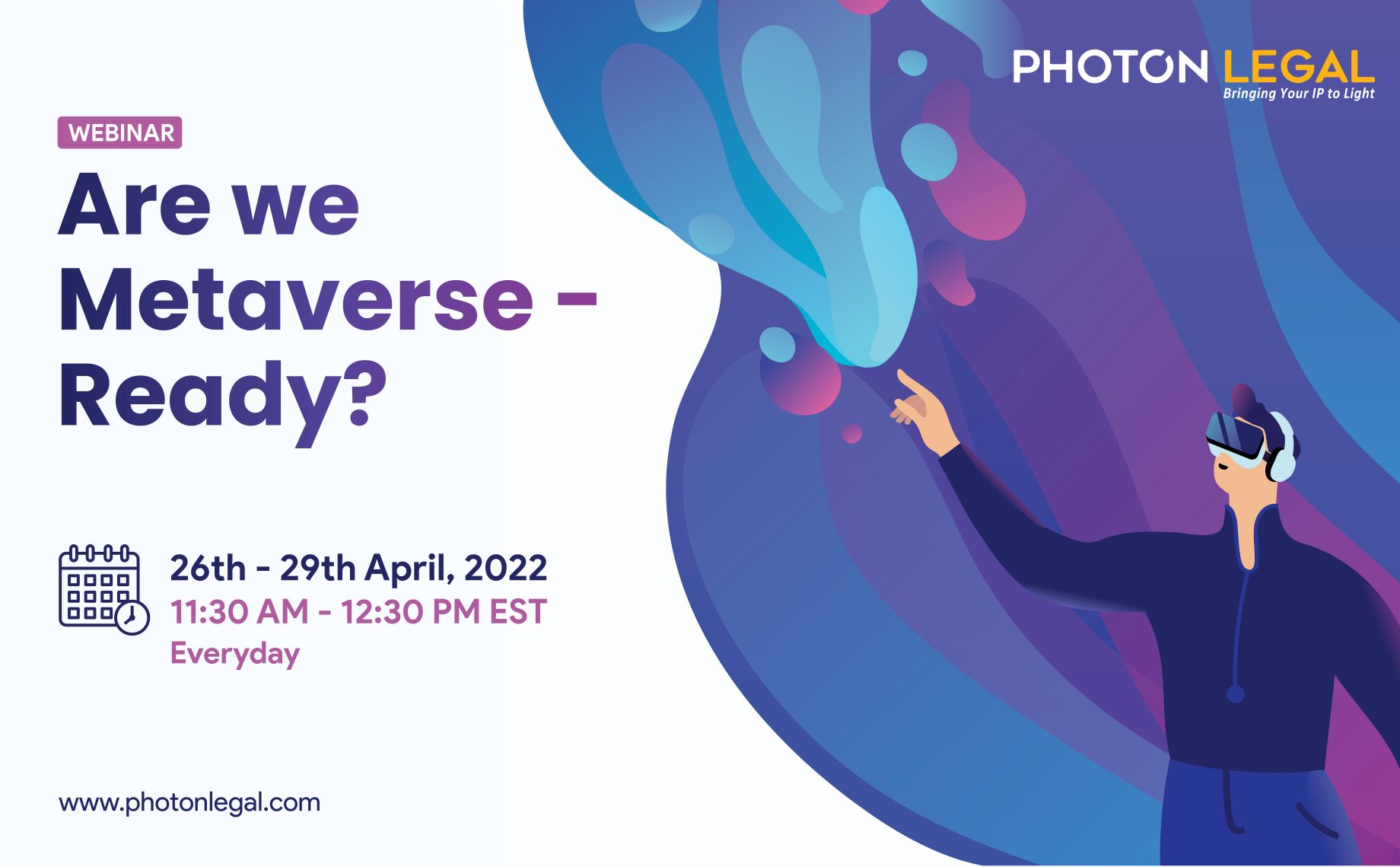 Photon Legal brings to you, yet another exciting webinar series – Are we Metaverse – Ready? Let's hear from some Metaverse experts about their experiences, knowledge, and upcoming trends in Metaverse. Join us and get insights like never before! Register yourself on the link given below.
Who should attend?
Blockchain gurus, tech players such as startups and large enterprises, government authorities, IT leaders, tech entrepreneurs, investors and developers, Intellectual Property (IP) enthusiasts. If you are curious about the upcoming trends in Metaverse, then you must attend this webinar. 
Why attend the summit?
Metaverse is a virtual world with the future of connectivity and the internet is being able to be more interactive, work from anywhere (remote working), and deliver more immersive experiences to the users. Advances in Virtual Reality(VR) allow us to now immerse ourselves in the digital world in the first person. Augmented Reality(AR) technology provides the ability to bring the Internet into the physical world, and distributed ledger technology and blockchain provide trust and transparency in ownership, where IP plays an important role in protecting these innovations
Our distinguished panelists, with years of experience in Metaverse, will provide valuable insights about their journey. Every session will shed new light on a series of interesting topics including the following and more:
Industries affected by Metaverse
Investment in Metaverse Projects
Concerns about Metaverse: Privacy, Crime, Laws
Event Details: 
Dates: 26th to 29th April 2022
Timing: 11:30 am EST
Registration Link :- https://www.eventbrite.com/e/are-we-metaverse-ready-tickets-316634330807
Privacy Policy
Attendee information may be used by only Photon Legal to contact regarding sales.
No data is distributed to third parties.
Enroll now to be a part of our webinar
[wpforms id="4659″]