Autonomous Vehicles: A Billion Dollar Hotspot for IP
Prayank Khandelwal and Tanaya Kukade
Abstract:
The future of transport lies in Autonomous Vehicles Technology. The concept will bloom in the future as it will solve real-life problems like traffic congestion, road accidents, human errors while driving, to name a few. Already leading automobile manufacturing companies like Tesla, Mercedes, BMW, to name a few, have created prototypes with the help of software companies like Apple, Google. This shows a growing trend of collaboration between technology companies with diverse backgrounds. Wherever collaboration occurs, protection of either side's Intellectual Property is pre-dominant. As more technology companies venture into this promising futuristic tech, there will be a steep rise in patents for sensors, design, process, algorithms, brand names and every aspect related to these products. We might see a patent war between companies with heavy purses. India won't be far behind in this race as the Indian vehicle industry gears itself up for development.
Article:
According to a Boston Consulting Group report, the global self-driving market is estimated to reach $42 billion by 2025. This means companies all over the world are optimistic about the applications built using this technology. Certainly, all the companies investing heavily in such a futuristic and niche technology research would want to protect their intellectual property (IP) ranging from sensors, automotive control systems, operating software to design and many more associated areas. Intellectual Property Laws will ensure that the research undertaken would rest in the safe hands and be put to only developmental purposes by its true owners and help develop and transfer this innovation globally, with due credit to the inventor.
With the increasing developments and investments in Autonomous Vehicle technology, individuals and institutions would need the IP laws to evolve, which would cover the breadth of the nature of the technology and its applications. Without dynamic and evolving IP laws, it will be difficult to legislate on the newer nature of the IP conflicts. Similarly, technological processes will require patents, algorithms will be required to be protected as they are business secrets, brand names would require trademarks in order to prevent misuse of the company's reputation and goodwill. Filing patents will enable manufacturers and suppliers to get the right valuation of their hard work and dedication. In fact, between 2010 and 2015, there were more than 22,000 new inventions related to self-driving automobiles patented around the world with individual automakers, leading the charts. The US tops the inventor rankings followed by Germany, South Korea, and the United Kingdom in the field of autonomous vehicle inventors all around the world.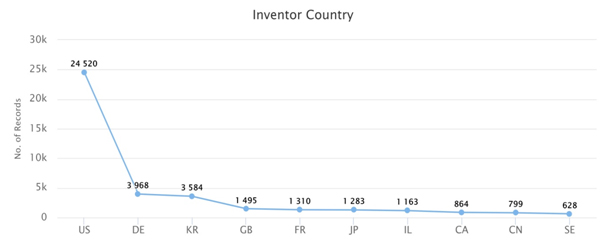 Despite the increase in the number of patents filed in the autonomous vehicle domain, there are a limited number of IP laws. This mismatch has led companies to collaborate for processes, designs and trademarks alike. From 2017 onwards, companies like Toyota, Jaguar Land Rover, Volvo, Daimler have established multi-lateral collaborations with Microsoft, MIT, Stanford, and Bosch to bring together the industry and the academia. This helps them seamlessly exchange information and generate more value which then can be capitalized for mutual benefits. Also, in the case of IP litigation, they can jointly put a front against the external party. Inter-industry collaboration is evident and so is the need for more evolved IP laws. As the best minds across industry and academia collaborate, there is no limit on the scope of inventions. This will also help them reach a larger customer base and generate more value in the value chain. Such examples assure that the driverless car regime will be a reality in the foreseeable future.
According to market research on the number of patents filed, Ford Motors is the leading patent owners in the field of the autonomous vehicle followed by General Motors.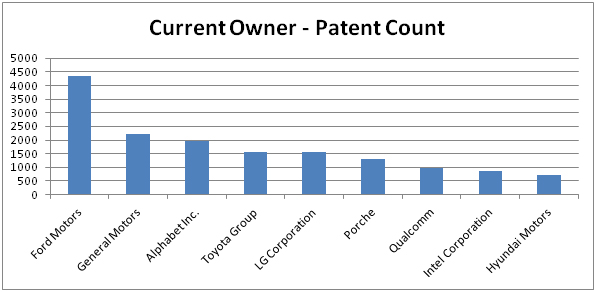 The development of autonomous vehicles has opened a Pandora's box of opportunities to explore IP and related rights, worldwide. This also creates a level playing field for inventors and manufacturers alike. Although it's too early to tell, it will be interesting to see what effect this collaboration has on the IP litigations. As the autonomous vehicle regime develops, it is expected that the number of litigations will also rise in the near future and cater to the evolving needs of the people, IP Laws also need to evolve.