Autonomous Vehicles: A Billion Dollar Hotspot for IP
Author: Tanaya Kukade
Editor: Prayank Khandelwal
Abstract:
Numerous industrial and technology giants are entering into collaborations in the field of Intellectual Property (IP) and Automation. The scope of application of IP to Automated Vehicles (AV) is ever widening, since it applies to every step and process of the futuristic AV technology. For example, patents for sensors and software, trade secrets for navigation algorithms, design for shape of the vehicle, and trademark for brand names to name a few. Thus, this billion dollar industry is bound to bring about a boost in the field of IP in India.

Article:
Companies all over the world are investing vast resources into new technologies necessary to bring the dream of self-driving cars to fruition. According to a Boston Consulting Group estimate, the global self-driving market is estimated to reach $42 billion by 2025 and Intellectual Property (IP) will play an essential role in the development of these autonomous vehicles (AV). Companies are incessantly filing new patents on automotive control systems, copyrights on operating software, and trademarks on newly created brands related to AV.
As technology evolves the need for ensuring their protection against unwarranted use also rises and the scope and application of IP will only widen given the lacuna in legislations governing the future AV regime. Technological processes will require patents, algorithms will require to be protected as trade secrets of companies, brand names would require trademarks in order to prevent misuse of the company's reputation and goodwill, more so companies may also protect vehicle designs by filing design applications. Filing patents would enable car manufacturers and their suppliers to protect their inventions while adding value to their business and capitalising on their inventive skills. It is thus brought to light that the application of IP and the development of AVs is interlinked.
In fact, between 2010 and 2015, there were more than 22,000 new inventions related to self-driving automobiles patented around the world with individual automakers, leading the charge. US tops the inventor rankings followed by Germany, South Korea and United Kingdom in the field of AV inventors all around the world.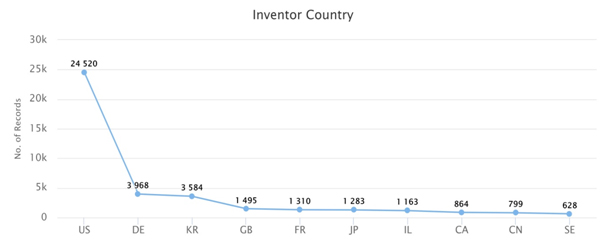 Despite the explosion of IP filings related to AV, companies are beginning to recognize the necessity for collaboration and the inevitable exhaustion of IP rights in the field. Automotive manufacturers have taken in to collaborations with competitors and tech firms in order to establish their presence in all fields related to AV as it put them in a better place in case of potential claims and legal suits by other parties. Thus, Inter-industry collaboration is already becoming evident.
Efforts are being taken since way back in 2017 when Toyota entered into a patent licensing agreement with Microsoft in order to share and utilise connected car technologies and the inevitability of the utilisation of inbuilt digital cloud services in the AVs has proved to be fruitful for the companies. Toyota also has a research partnership with MIT and Stanford University to phase out human drivers, similarly Jaguar Land Rover has collaboration with research institutes to step into the field of AV manufacturing. A big leap has been taken by Microsoft in entering into an agreement with Volvo to manufacture and bring to reality a driverless car.
As recently as July 2019 Bosch and Daimler achieved a milestone in AV in initiating the concept of automated parking garage in Germany which would be put to official use upon approval. Partnerships accelerate technology development and assist those with manufacturing capability to stay at the forefront.  These relationships will give software players the opportunity to embed their software in millions of AVs, allowing them to reach a huge customer base.
According to recent statistics found by a keyword search mentioning "autonomous vehicles" Ford Motors are the leading patent owners in the field of AV followed by General Motors.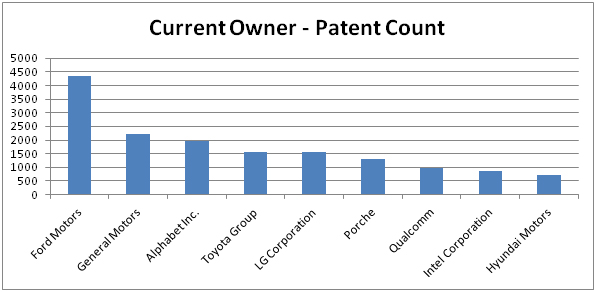 The development of AVs creates myriad opportunities to explore IP and related rights worldwide and creates a ground for investors and automakers to collaborate and exchange ideas and resources. Although it's too early to tell, it will be interesting to see what effect this collaboration has on IP litigation and potential IP-related collaboration. Companies working on self-driving cars are aggressively competing for new talent and new technology, thus, the rise in IP claims and related disputes is inevitable all over the world. In the same way, the present day principles and concepts of IP would have to evolve and adapt to the ever changing and developing technology in the country.