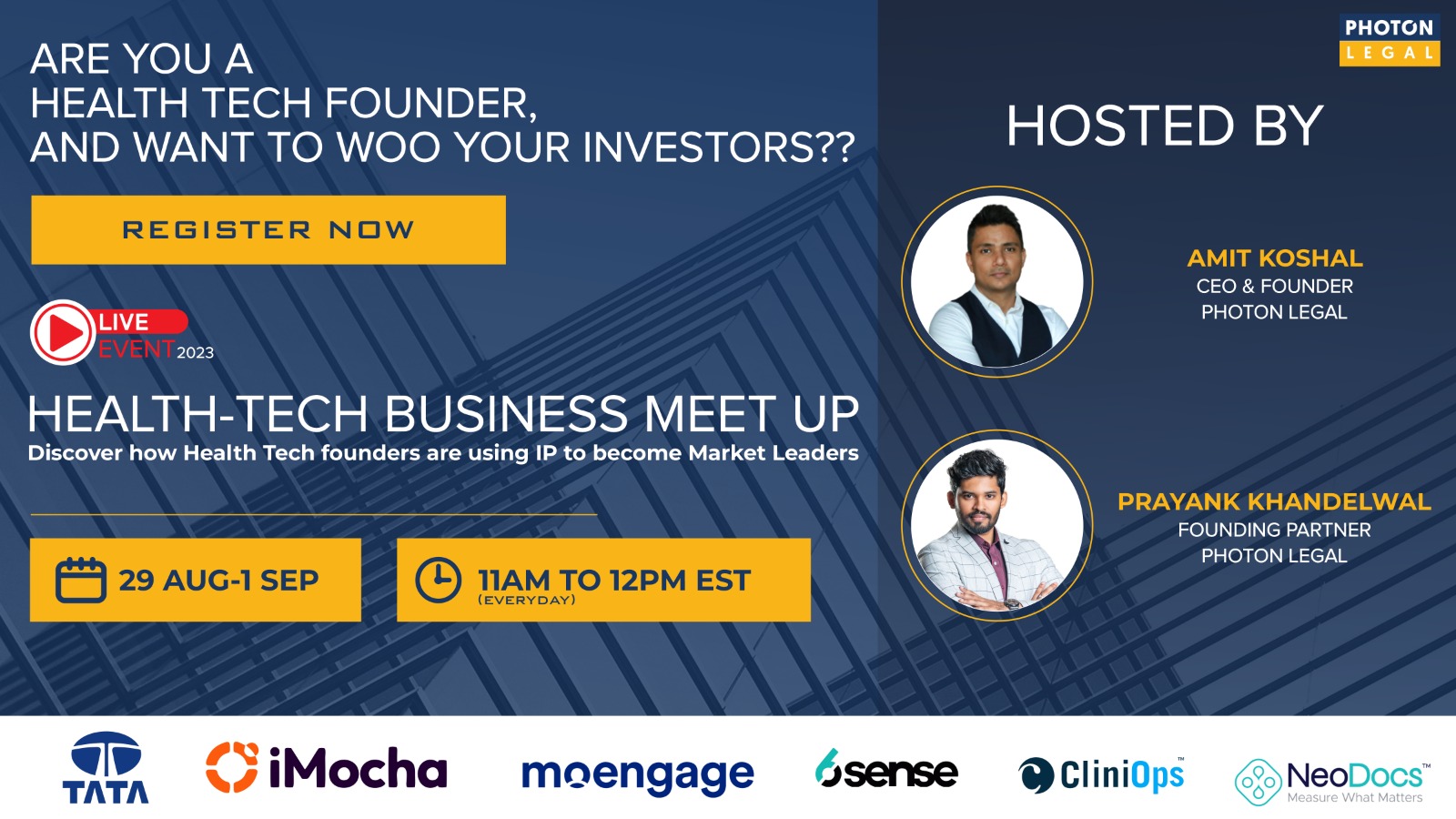 Have you ever wondered what sets apart a successful health-tech startup from the rest of the pack? In a world where innovation reigns supreme, the ability to protect your ideas and attract investors can be the key to turning your health-tech vision into a reality. But how can you leverage Intellectual Property (IP) strategies to not only captivate potential investors but also propel your venture toward long-term success?
Join us for an enlightening meet-up presented by Photon Legal, as we unravel the importance and balance between IP, finance, and the invaluable insights of industry experts.
Who is this Webinar For?
If you're an entrepreneur, innovator, health-tech startup founder, or simply someone interested in the intersection of technology and healthcare, this webinar is designed for you.
Why Should You Attend?
– Learn How Intellectual Property Can Transform Your Health-tech Venture
– Hear Success Stories from Pioneering Health-tech Founders
-Get Exclusive Insights from Renowned Healthcare Investors
-Network with 100+ Forward-thinking Attendees
-Limited Seats Available – Reserve Yours Today!
About the Speakers
Our distinguished panel of speakers consists of a diverse range of experts, including seasoned founders and investors who have carved their paths in the health-tech arena.
The event would be Hosted by
About Photon Legal:
There are law firms and then there's Photon Legal. We're a law firm specializing in IP protection. With clients like Filo, iMocha, Sixth Sense, and Tata – we've filed 3,000 patents with a ~100% success rate.
Forbes includes us in their list of Top Ten IP firms in India. Photon Legal, India's fastest growing Intellectual Property (IP) law firm, is fueled by its core values, shaping a culture of achievement, enthusiasm, compassion, and honesty.
Date and Time:
Join us on 29 August to 1 September every day at 11 AM (EST)
How to Register:
Click here to reserve your spot now!
https://www.linkedin.com/events/learnhowipcanhelphealthtechfoun7090243666337816576/